LEP helps new train station steam ahead
The development and building of the first railway station on the Great Eastern mainline in more than 100 years is now underway at Beaulieu in Chelmsford - the new station is being funded by nearly £160 million, which includes £124 million from the Government's Housing and Infrastructure Fund, £12 million from the South-East Local Enterprise Partnership and £22 million from the developers of Beaulieu, Countryside and L&Q.
Works began at the site near the Boreham Interchange in January, and local MPs, Councillors and senior representatives from the partners involved in the project visited the site in March to see how the development is progressing.
It is expected the work will be completed and the station open by the end of 2025.
The new station and connected transport links, such as the new Beaulieu Parkway relief road, which is expected to open in summer 2023, and the Chelmsford North-East by-pass, which is due to start development this summer, will play a significant role in transforming travel in Chelmsford and the surrounding areas.
It will help relieve pressure at the Chelmsford train station, reduce car journeys into the city, and therefore tackle congestion on local roads, reduce pollution and encourage more Chelmsford residents to use safer, greener, healthier modes of travel for short journeys.
The station is a significant addition to the Beaulieu and Channels neighbourhoods in the north of the city, which form the first phases of the new Chelmsford Garden Community. 4,350 homes already have planning permission – including 1,989 new homes which have already been built along with the Beaulieu Square Neighbourhood Centre providing local shops, community and health services, and The Beaulieu Park School, – Essex's first all-through primary and secondary school.
Another 6,250 homes, a second all-through school campus, up to three primary schools with early years and childcare provision, at least two standalone early-years facilities, more than 9 hectares of employment space and walking and cycling routes will also be delivered in the coming years. The station will provide easier and quicker access to jobs, helping economic development of the area and encouraging further investment.
The Beaulieu Park station will provide travel to London Liverpool Street in 40 minutes and will include three platforms, car parking, a public transport interchange, cycling facilities and new track for passing trains.
Cllr Lesley Wagland OBE, ECC Cabinet Member for Economic Renewal, Infrastructure and Planning, said:
"I am very pleased work is now underway on the Beaulieu Park train station. It is such an important development and significant investment in the future growth of Chelmsford and the surrounding areas and demonstrates Essex County Council's commitment to sustainable travel and providing modern transport routes that will last many years."
Vicky Ford MP for Chelmsford said:
"It is excellent news that construction of the new Beaulieu Park Railway Station is now underway. The people in the North and East of Chelmsford have waited many decades for the second station. This will mean fewer car journeys into the centre of Chelmsford and thus less traffic. The passing loop at the new station will enable fast trains to overtake stopping services and will improve the reliability of train services for commuters all across the Great Eastern Mainline."
Cllr Stephen Robinson, Leader, Chelmsford City Council said:
"We need to guide Chelmsford's growth in the most sustainable manner. With new homes, more floorspace for businesses, extra schools and neighbourhood centres among the many developments planned for North Chelmsford in the coming years, it's vital that we invest in infrastructure. The new station will help to reduce congestion on our roads, pollution in our air and give residents more options when they want to travel."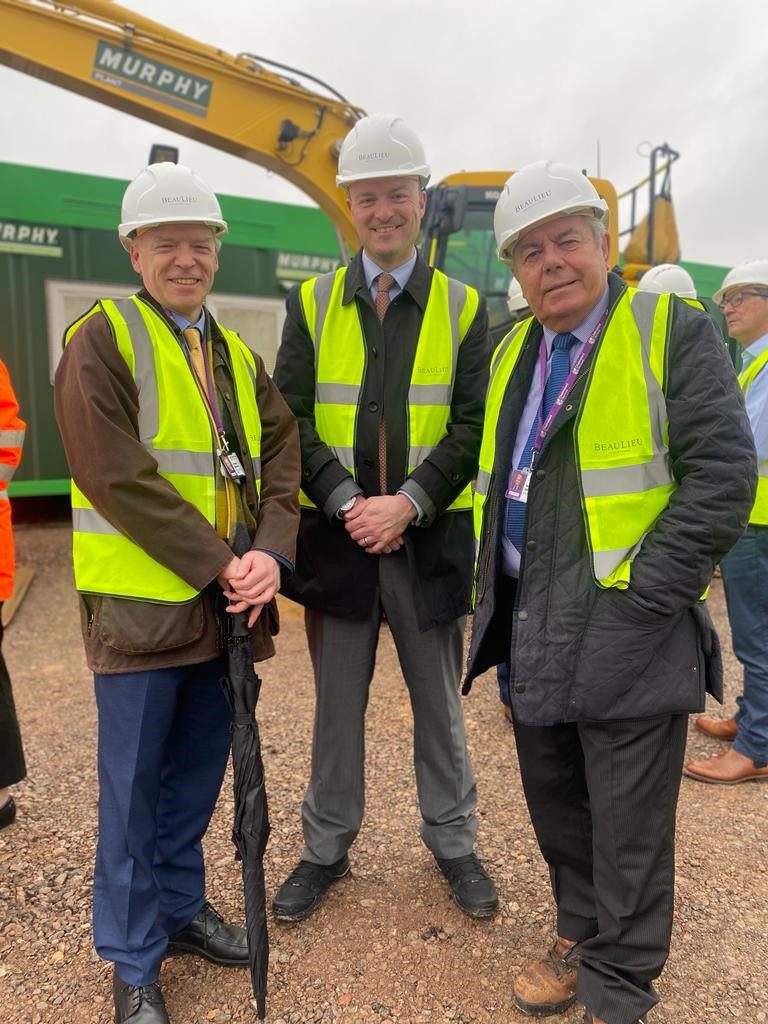 Adam Bryan, Chief Executive of the South East Local Enterprise Partnership said:
"This is a major project for Chelmsford but also for the wider economy and will offer easier access to the train service for employment, business, study and leisure purposes. The passing loop will improve the service on the mainline, enabling fast trains to pass on this key transport artery through the area. We are delighted to see so many partners working together to drive forward this much needed and much anticipated transport hub."
Martin Leach, Managing Director, Strategic Land, Countryside said: 
"We are proud to have reached the next milestone in the delivery of this major project, which has been part of the long-term vision to improve the transport connections for the residents of Chelmsford. Over the last decade, Countryside (now part of the Vistry Group), along with our development partner L&Q, has been working in partnership with Essex County Council, Chelmsford City Council and Network Rail to help deliver this critical piece of infrastructure to the area. Once open, this brand-new railway station will vastly improve transport connections for Beaulieu residents and the wider Chelmsford community. We look forward to seeing the construction of the station come into fruition over the next few months."
Adam Simpson, Director of Project Management and Development at L&Q, said:
"We are very excited to be progressing with the growth and regeneration of this new community in the heart of Essex. Improving connectivity and local infrastructure is an integral part of any successful development and we are proud to help deliver the Beaulieu Park Station as part of that. We welcome the continued support and partnership work with local authorities Chelmsford City Council and Essex County Council, Network Rail, as well as Countryside, our delivery partners at Beaulieu – it is only through such like-minded organisations coming together that we can achieve real progress. We look forward to considerable works in completing the station and rail connections and hope to soon welcome Beaulieu residents on the first train from their brand new local station."
Giles Clark, Principle Portfolio Manager for Network Rail said:
"Beaulieu Park station will be a fantastic addition to the rail network and for Chelmsford, creating an exciting new gateway for this growing community and helping to relieve local congestion.
"Network Rail is always open to new opportunities and this project is a shining example of what can be done when the rail industry works closely with local stakeholders to bring vital transport enhancements to the area."  
Al Pattison, Operations Director (transportation), J. Murphy & Sons Limited said:
"Murphy is delighted to have commenced work on the new Beaulieu Station. The team has already made fantastic progress with the enabling works and earthworks.  We're looking forward to sharing updates and engaging with the local community throughout the construction period." 
---
Notes to Editors:
The partners involved in delivering Beaulieu Park Train Station include:
Essex County Council
Chelmsford City Council
Network Rail
Countryside Zest
L&Q
South East Local Enterprise Partnership
J Murphy & Sons Ltd
Homes England
The new station will include:
Three platforms with a central loop line and new tracks to enable stopping services to call at the station while allowing fast trains to pass through unimpeded.
Step free access to all platforms via 2 lifts
Ticketing facilities, with ticket vending machines and a gate line
Accessible toilets, baby change facilities, waiting area and space for retail/catering
Parking for over 700 cars, 5% of which to be designated Blue Badge bays, and motorcycle spaces, as well as dedicated parking for station staff, emergency services, and a dedicated space for service access.
Pick up and drop off area with dedicated taxi bays
A bus interchange including bus stands for local services
500 spaces for cycle parking and storage
Pedestrian and cycle access routes to the station
It will provide additional access to the railway with regular connections to the capital (only 40 minutes from London Liverpool Street station) and other destinations in the east of England.
For further information about the project and to view photos of what the station will look like, please visit: Beaulieu Park Station – Network Rail